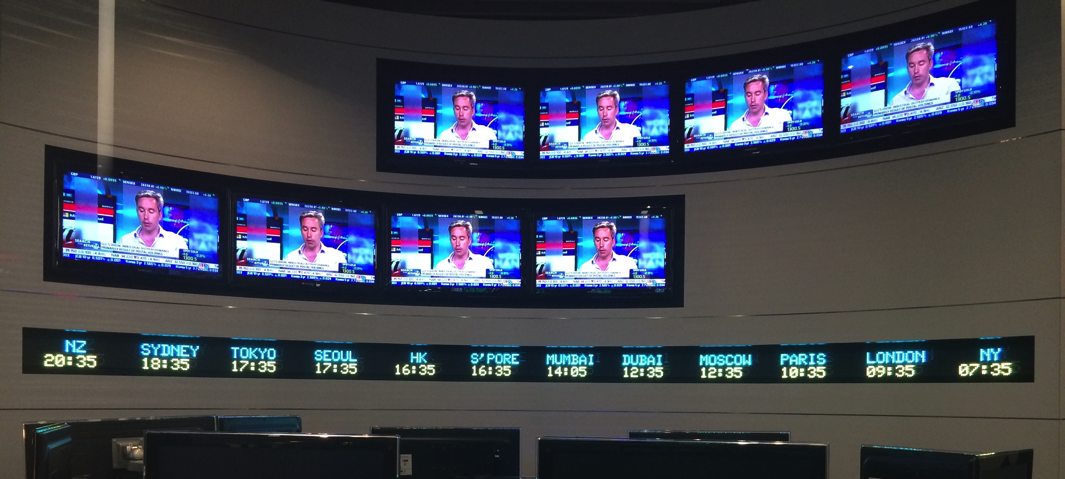 The LED Digital Time Display System is typically designed to show Local Time or World Time.
The Display can come in a variety of formats and features to suit individual's application.
Typically, The Display is used to show time in various country/zones at one display screen. The common display feature is to show in two rows of information with the upper row indicating the country name and lower row showing the time in HH:MM. The subsequent Country/Zone will be displayed horizontally.
Another format which, is also common, is displaying the Country/Zone, Date and Time in a vertical order.
In addition, there are other display features that can be applied to meet individual's requirements.
The Display can come with 2 or more Zones depending on individual's requirement. Generally, the time information will be taken/extracted from Window's Time and will be automatically updated to the LED Display System. All time zones will also be synchronized.
The Digital Time Display can come in three different kind of emitting colors:-
Single color - ( a choice of Red, Green, Blue, Amber and White )
Tri color - ( Red, Green and Amber )
Full color – ( Red, Green, Blue, Yellow, Pink, Cyan and White )
The Ticker Display is driven with iecom's PixelPro Micro Processor Controller. With the self developed Micro Processor, the absent of software support and "third party" hardware des-continuation is assured. In addition, the turn around time for parts replacement will be greatly reduced.
The Digital Time Display typically comes with an software application to read Time from Windows based PC. The interface is generally via RS232/485 serial interface or network (TCTIP) connectivity.
The Ticker Display comes with a full 12months warranty with parts. User has a choice to opt for a comprehensive maintenance or per call basis after the expiry of warranty period.