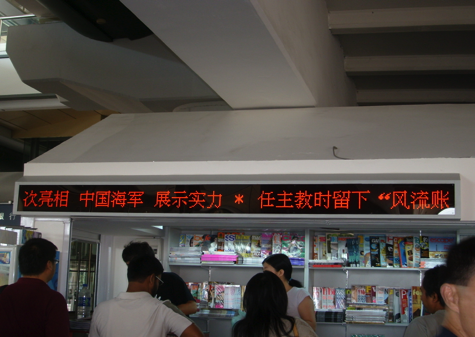 The LED Ticker Display is typically a long scrolling display. Its application is vastly used in the financial industries such as Banks, Financial and Commercial Institution. However, the display system has since been used in Retail industries as well as Airports.
Generally, the Ticker Display is designed to show scrolling information unceasingly.
The information can be in the varieties of financial news, stock information, flight information,
important announcement, advertisement, world time or any real time information.
The Ticker Display is typically a matrix display. Unlike the conventional 5x7 format,
the Ticker Display is designed using a 16 x 32 pixels or 16 x 48 pixels modular format. The display is constructed by joining each modular display to form the respective required length. The text size is typically in 4" (100mm) and arranged in single line with a scrolling effect. The Display can also show 2" text in dual lines but is generally displayed in a static effect only. A larger text size such as 6" and 8" are also available.
With 16 pixels format, the display is capable to show a much vibrant text/font and graphics such as Chinese characters or icons. The display can support "Bold", "Upper and Lower case" text.
The Ticker Display can come in three different kind of emitting colors:-
Single color - ( a choice of Red, Green, Blue, Amber and White )
Tri color - ( Red, Green and Amber )
Full color – ( Red, Green, Blue, Yellow, Pink, Cyan and White )
Each modular board is formed by either 8x8 LED module or in the case of full color version, the LED diode is surfaced mounted in RGB format arranged in a 16x32 format. Especially in the case of surfaced mounted LED, the display is much more vibrant and does not require the conventional front acrylic cover. This can greatly improve the aesthetic look of the display and at the same time, eliminating the reflection problem usually caused by the front acrylic cover.
The Ticker Display is driven with iecom's PixelPro Micro Processor Controller. With the self developed Micro Processor, the absent of software support and "third party" hardware des-continuation is assured. In addition, the turn around time for parts replacement will be greatly reduced.
The Ticker Display can come with an editing software application for user to input, store and transmit messages from a PC. The interface is generally via RS232/485 serial interface or network (TCTIP) connectivity. For real time application, a special customized application can also be developed to facilitate the application. Alternatively, iecom can also provide the product protocol to allow user to self develop the editing software to suit its own application.
The Ticker Display comes with a full 12months warranty with parts. User has a choice to opt for a comprehensive maintenance or per call basis after the expiry of warranty period.